SUMMIT Deliverables
For the SUMMIT deliverables, please take a look at the right column.
They are also accessible via the tab 'Online Modules'.
Events
The project has ended in February 2017 and all events have been completed. Reports about the events and contributions by speakers are accessible via the links below.
Conferences
Roundtable Discussions
SUMMIT Dissemination Conference with Jim Cloos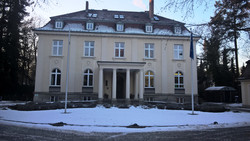 "Spreading knowledge and fostering research about a key institution"
On January 16th and 17th January 2017 the SUMMIT Dissemination Conference took place in the Europäische Akademie, Berlin.
Speakers and participants provided insights in internal dynamics of the European Council as well as on useful teaching tools and techniques. A Highlight was the key note speach of Jim Cloos, Deputy-Director General at the General Secretariat of the European Council.
The full speech of Jim Cloos, panel reports and pictures are available here.
Further readings and useful links